Welcome to Tree Cutting Services (Pvt) Ltd Harare
Who We Are
Tree Cutting Services (Pvt) Ltd is a insured, customer focused and professional tree cutting harare, tree felling Harare,  tree removals, tree trimming and topping services company. The also provides tree pruning and trimming, site clearances, boom-sloping Harare and affordable and reasonable stump removal prices Harare and costs are too good to be true.
We are a family and proudly Zimbabwean owned tree felling Harare services company that prides in offering exceptional, expert and quality tree care services for residential/domestic, industrial and commercial clientele. These include individuals, private companies, the public sector, non-governmental organisations, farms and other entities.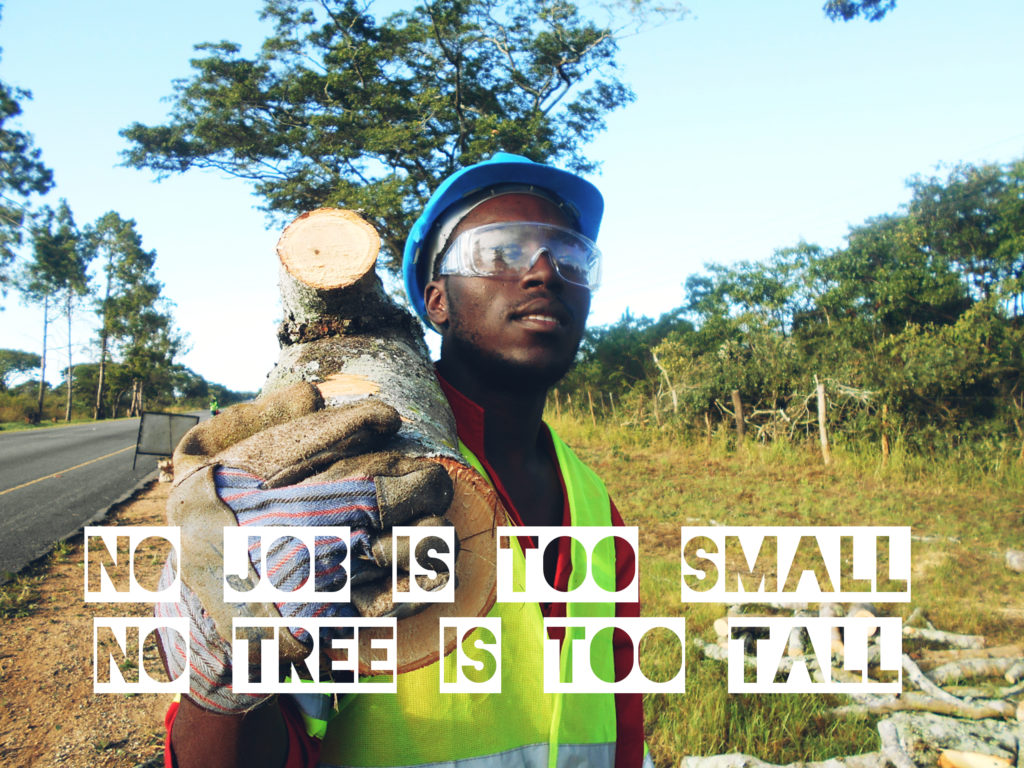 We are tree preservationists first, but there are several situations such as disease and decay, where tree removal may be what we recommend.Our certified arborists will assess each tree for its health and structural stability.
Tree Cutting Services has been in the tree care, and tree removal arborist industry in Harare and Zimbabwe for more than 15 years. Over this period, we have established a reputation of providing our customers a safe and professional tree care service experience.
Our 24 hour professional tree felling Harare and tree cutting Harare is focused on safety and service excellence. Since its establishment  15 years ago, the company has grown into a large and dynamic organisation tree felling and tree cutting harare servicing all areas across Zimbabwe. Our harare tree cutting teams are available for tree cutting emergencies around the clock.
There are a lot of reasons for trusting our expert and reliable tree felling Harare.
CONTACT US NOW or call 0772593344 for a quote or assistance with a tree felling question or query.
Our Tree Felling & Cutting Services List
As a committed tree cutting Harare services company, we offer the following dedicated tree cutting services to our business and individual clients:
Insured Tree Cutting Harare & Tree Felling
Tree Trimming Harare 
Tree Topping Services
Site Clearance & Cleaning and Shrub Removals Harare
Stump Removals Services
1. Insured Tree Cutting Harare & Tree Felling
Do you want a tree cut or fell in Harare or anywhere in Zimbabwe? We provide insured tree felling and cutting services of outstanding quality and unequaled and unparalleled to any. Whether the tree is big or small, or located in complex situations, Tree Cutting Services (Pvt) Ltd can provide superior tree care services that will leave a lasting impression on all our clients. 
We have involved in important tree cutting and tree felling projects across the country that include tree cutting and tree felling along the major highways, projects done on behalf on Intertoll Zimbabwe (Watch Video Below) We have been involved in tree felling and cutting by Muriel Mine, Mutorashanga. These have been huge projects that have shown our expertise and demonstration as far as tree cutting harare and felling is concerned.
Tree Felling Harare Serviced Areas
We cover all areas in Harare. This includes the CBD and outlying areas. We cover both low, medium and high density areas in Harare. No job is big or too small as we treat all customers the same. We cover residential areas that include Mt Pleasant, Borrowdale, Newlands, Chisipite, Borrowdale and Borowdale Brooke, Chishawasha, Milton Park, Highlands, Highlands, Greystone Park, Gunhill, Eastlea, Greendale, Cranborne, Glen Lorne, Umwinsdale, Avondale, Avondale West, Borrowdale West, Pomona, Malbereign, Marlborough, Bluffhill. Arcadia, Westlea, Vainona, Ashdown Park, Avenues, Ballantyne Park, Belgravia, Belvedere, Westwood, Vainona, Emerald Hill, Cranborne, Alexandra Park, Greendale Athlone, Southview, Mabvazuva, Madokero and Avenues, Don Viewand Cold Comfort. Areas such as Parktown, Manresa, Mandara, Milton Park, Northwood, Parktown, Queensdale, Westlea, Strathaven, Ridgeview, Sentosa, Tynwald,  Warren Park, Waterfalls, We also provide tree cutting Harare and felling in all high density areas in the city which include Kuwadzana, Dzivarasekwa, Granary, Kambuzuma, Hopely, Ushewokunze, Herbert Chitepo, Ruva, Mabvuku Tafara, Sunningdale,  Hatcliffe, Hatfield, Mbare, Mufakose and Rugare. Our services also extend to industrial areas such as Workington, Southerton, Graniteside, Ardbennie and Willowvale. Therefore, clients should not hesitate to call us for any projects that they have, whether small or big.
What you need to do to engage our Tree Cutting Services Harare & Tree Felling Harare Services
Its simple. If you have a tree that needs cutting, felling or trimming, you can schedule our free appointment. We do not charge you for the site visit. This therefore means you do not lose anything. There are a lot of reasons why there should be a site visit.
Why We Need To Do An Onsite Assessment?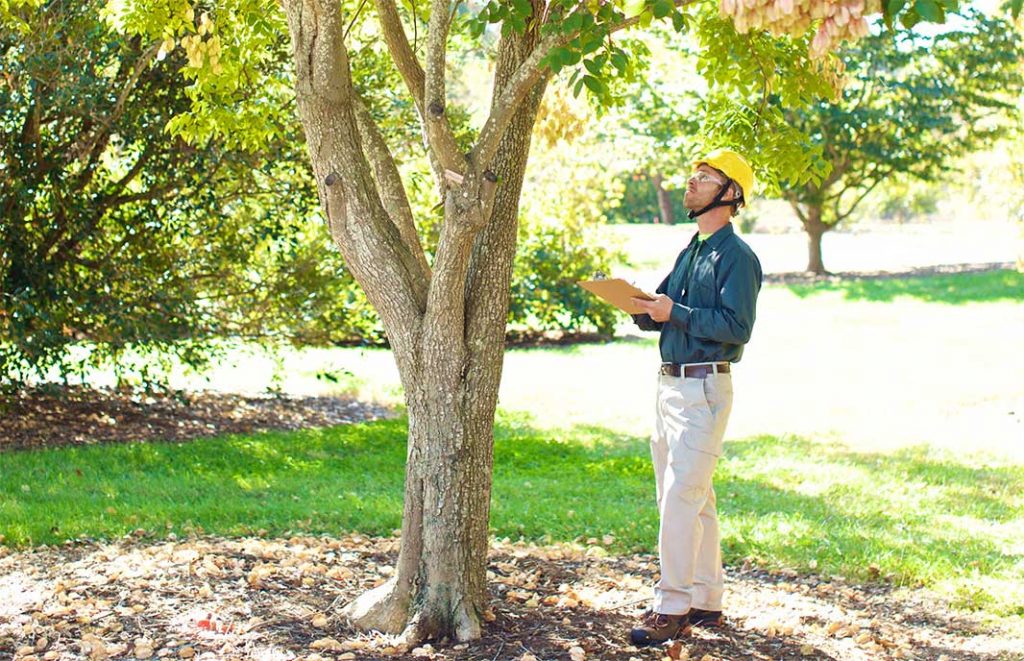 When you give us a call that you have a tree that needs to be cut, trimmed, topped or the stump removed, we usually ask if we can come and do an onsite risk assessment. An onsite risk assessment is where we sent our Harare certified tree cutting services arborist to see the scenario surrounding the tree felling Harare job that is being quoted for.
This assessment is free in Harare. This means we do not charge you. An onsite risk assessment shall help you and us:
It shall allow you to get to meet us. This gives you our client, the opportunity to appraise our ability to tackle your job. Meeting us shall help you determine our depth of knowledge about what you intend us to do.
A tree cutting site visit shall help us have a full appreciation of the circumstances surrounding the tree. Is the tree located to a durawall, electric fence or building? How tall and thick is it? Is it a hardwood or softwood? to be fell, the risks associated with the trees to be cut, the height and size of the tree.
The onsite risk assessment also helps us have an appreciation to determine whether there is any likelihood of injury or harm. This shall therefore assist us in factoring this aspect in the quotation and cost.
An assessment shall inform us whether there are prior arrangements that can be made for a successful project. You may need to have ZESA shut off the power for safe working.
What Happens After the Onsite Assessment?
 After the assessment, we shall then give you the quotation. The quotation shall specify the nature of the tree care service job, highlight the risks inherent in the task the the level of risk in the job. The risk is usually classified as low, medium to high risk. A low risk job is a tree cutting, tree felling or tree timming job that does have little or no risk attached. The tree is usually located where nothing can be damaged. This job can even be done by one or two technician and be completed successfully. A tree in a medium risk scenario has some specific components of risk whilst the tree in a high risk scenario is located in situations where some things can be destroyed.
The quotation shall highlight the job scope where specific elements of the job are highlighted. This usually involves listing the nature of the job. Is it tree cutting? Or it is tree trimming or stump removals? Is it tree topping or site clearance. The job scope is usually presented in an itemised list.
The quotation shall also specify the duration of the project and ultimately the cost of the tree cutting services project.
You Give us the Job, Let the Game Begin?
After we give you the quotation, you may accept the quotation and let us begin the job. We usually ask the customer when they would want the tree cutting services job to begin. This is usually a time or date that is convinient to the customer. Some customers would require that we begin the job as soon as possible, whilst others may require us to do the job during the weekends. Anytime that the customer requires our services, we try by all means to meet this specification.
What You Shall See During The Tree Cutting Services Job
We shall bring various pieces of equipment that include chainsaws, safety harnesses, boom-sloping trucks and a service vehicle. We also bring tree climbing gear. The number of personnel who shall attend to your job shall depend on the nature of the job. If the tree is not in a risk scenario, two or three arborists can attend to your job. If the job is quite risk and is situated close to things that can be destroyed like durawalls, buldings, razor wire or electric fence, this may require us to bring more personnel so that the job sails smoothly without anty damage to property.
Our Tree Cutting Services Promise & Assurance to You
By engaging us on your project, this demonstrates the highest level of trust we can think of. We understand there are a lot of tree cutting companies in Harare that you considered. The moment you settled on us, this means you have trusted us and justified yourself that we shall complete your job with the utmost care and diligence it deserves. As Tree Cutting Services (Pvt), we pledge and promise you the following: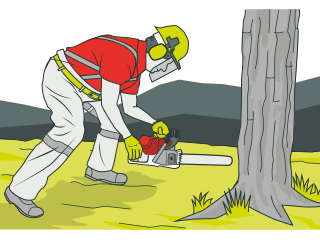 We shall not damage any of your possessions or property. This will therefore mean we shall put into place safety protocols and procedures that shall ensure this goal is achieved.
We shall complete your project within the stipulated time frames. The stipulated project timeframe is usually specified on the quotation. However, there are events that may result in your project may delayed. Some are incidences that are out of our control. These events are to do with natural weather like such as rain and hail storms. During these weather conditions, we cannot work. In the event of failure to meet project deadlines, we inform you of the reason why deadline cannot be met.
We shall prioritise safety of our staff and personnel at all times. The safety of our personnel is of utmost importance.
Moreover, we shall leave the work site smart and tidy. This shall entail piling the firewood and leaves neatily in designated areas.
Stump Removals Harare – This is when we get rid of the remaining stump including the roots.
Tree Stump Grinding Harare – This is the process of removing a stump using a machine.
Site Clearance Harare – This process involves the company removing vegetation and rubble from a piece of land.
Tree Trimming and Pruning Harare – We can also cut and remove certain parts of a tree for maintenance.
Precision Cutting of Trees – This is the cautious and precise cutting of a tree in Harare to minimise damage.
Tree Removals and Demolition Services for Corporate and Private Properties Across Zimbabwe
Be rest assured that your tree felling, tree removal and maintenance in Harare and Zimbabwe are well catered for. We have been in the tree cutting Harare and tree felling business for more than 15 years. We service all tree cutting clients. From individuals, private and public companies, government and non-governmental organisations, we meet all their needs. The company also travels outside Harare for tree cutting contracts.
Our Tree Cutting Services Experience

We are a reputable Harare tree cutting services and tree felling company that has been in the tree cutting business for more than 15 years. Concerning nature of projects we have also done both small and large tree cutting projects across the country. Moreover, the company has also done jobs in difficult and complex situations. We have serviced customers with trees next to houses and buildings, power lines, generators, telephone boosters and more. In all these instances, we have managed to complete the jobs in a safe manner and without any damage to property.
The company has been successful in cutting large baobab trees in Victoria Falls to trimming Misasa & Mitondo trees in Manicaland farms. In amicable ways, we have also been successful in topping huge and giant pine and eucalyptus trees in different areas that include Borrowdale, Mbare and Kuwadzana among others.
We have experienced and motivated tree cutters in Harare that are always committed to their work and wish to see you smiling. This is because it brings us pleasure to know we are doing what we love and what we are best at. Let us pass that contagious love and passion to you. We are the best tree cutting company in Harare and Zimbabwe.
Insured Tree Cutting Services Experience
It is always important to engage professional and insured tree cutting company in Harare and Zimbabwe. Tree Cutting Services (Pvt) Ltd is an insured tree cutting company in Harare. Anything can go wrong during tree cutting. By having insurance, we therefore cover you in the event of unforeseen disasters. Call us today to know more about our insurance and what it covers.
The Tree Cutting Services Team
Our success has been as a result of a strong team. We are a high performing and professional tree cutting services company in Harare. The success of our tree cutting and pruning company has been as a result of a good team ethic. The team gels and works together during tree cutting services exercises. Although problems can arise our teams ability to complete jobs is outstanding. The success of our tree cutting services team has been as a result of many factors. Our team communicates well with each other during tree cutting exercises. We share our thoughts and ideas as far as tree cutting and felling is concerned. Communication is essential for keeping track of progress and working together efficiently. Focusing on goals and results also helps us tackle even complex tasks.
Tree Cutting Services Onsite Risk Assessment
As a tree cutting services company, we our team prioritise onsite risk assessment during tree cutting in Harare and Zimbabwe. We shall identify risks and hazards associated with any tree cutting exercise. This process helps our team recognize and  control the hazards in the tree cutting, trimming and pruning location. The procedure will also help us create awareness among the tree cutting personnel.
Why use our Tree Cutting Services in Harare & Zimbabwe
---
Some people attempt tree cutting on their own. Although this may seem cost effective, it is very dangerous. You have a lot of reasons to engage Tree Cutting Services (Pvt) Ltd. Among them are the following:
We are full service insured tree cutting Harare, trimming and land clearing company in Harare and Zimbabwe. In the event your property or anything of value is damaged (this has never happened before at TCS), our insurance cover you up to a value of $50 000.00.
At TCS, we prioritize safety at all times on all our activities. For example, we use signal colored jackets and vests that are easily visible to each other and passerby.
Work Planning – We prioritize the whole felling process. This means we determine felling issues like felling direction, wind direction, wind strength, slope and obstacles around the area
Experience – All our staff have more than ten years experience in tree cutting services.
Our Services Clientele
---
Tree Cutting Services caters for different clientele in Harare and Zimbabwe. caters for all the needs of government, private companies, non-governmental organisations, game parks, resorts and individuals in Harare and Zimbabwe.
Our Coverage
---
We are based in Harare but we can attend to all jobs around the country. We can attend to tree cutting in Bulawayo, Mutare and some other cities. Call us today, anywhere, anytime and on short notice and we shall attend to your needs.